Shopping Cart: Empty
This page features new books and/or books that are on sale or part of another special offer. Be sure to check back often as this information is updated frequently!
History and Politics of America's Mustangs
Author: J. E. de Steiguer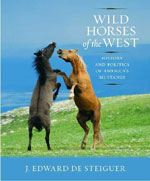 List Price: $24.95
Your Low Price: $18.21
This item is not in stock
please e-mail or call for details.