Shopping Cart: Empty
Author: Jeffrey Hahn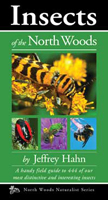 Have you ever wondered what that colorful bug on your wood pile was? Insects of the North Woods will help you identify more than 300 species of six-legged critters native to Minnesota, Michigan and Wisconsin. Author and University of Minnesota Extension Entomologist Jeffrey Hahn will teach you that all bugs are insects but not all insects are "bugs." The book includes hundreds of color photos of beetles, bees, wasps, grasshoppers, crickets, true bugs, moths, flies, butterflies, dragonflies and mayflies.
List Price: $18.95
Your Low Price: $17.95
This item is not in stock
please e-mail or call for details.
Specific Details
Softcover: 256 pages
Illustrated
Title: Insects of the North Woods
Author: Jeffrey Hahn
Publisher: Kollath + Stensaas Publishing
Date: 2009
ISBN: 0979200644
Language: English
Weight: 0 lbs 11.6 ounces