Shopping Cart: Empty
Author: Carol Polich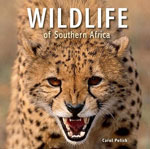 Handy-sized and affordably priced, this volume offers a photographic journey that transports readers to the center of the action: where lions roar and vultures lurk; where troops of baboons riot and lone leopards hunt. It is a rare glimpse into the lives of wild animals, revealing their daily struggle for survival, their unbridled energy and the intricacies of family interaction.
List Price: $12.00
Your Low Price: $10.20
This item is not in stock
please e-mail or call for details.
Specific Details
Softcover: 80 pages
Illustrated
Title: Wildlife of Southern Africa
Author: Carol Polich
Publisher: Random House Stuik
Date: 2010
ISBN:
Language: English