Shopping Cart: Empty
Understand-Identify-Avoid-Survive

Author: Chris & Mathilde Stuart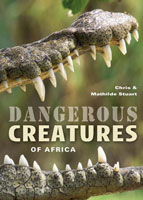 A colorful, detailed look at Africa's most dangerous and threatening creatures, from rampant to almost invisible – large animals that can inflict wounds, creatures that deliver venomous bites, those that are poisonous to eat, and diseases caused by animals. The focus is on understanding, identifying, avoiding and surviving these hazards of the African wilds. Symptoms of the diseases are detailed and preventative measures and first aid procedures are offered. The lively design with a strong element of drama – through photographs, boxed information and case studies – will have wide appeal.
List Price: $33.50
Your Low Price: $24.46
This item is not in stock
please e-mail or call for details.
Specific Details
Hardcover: 300 pages
Illustrated
Title: Dangerous Creatures of Africa
Author: Chris & Mathilde Stuart
Publisher: Random House Stuik
Date: 2009
ISBN:
Language: English