Shopping Cart: Empty
Author: Louis du Preez and Vincent Carruthers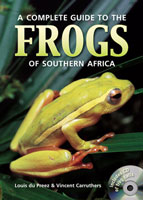 Following in the format and style of Complete Guide to Snakes of SA and Guide to Reptiles of SA, this guide offers the most authoritative and comprehensive treatment of frogs of the region ever produced. It covers all aspects of both frog and tadpole biology and behavior and a detailed treatment of each frog and toad species found in the region. Sonograms for each frog call are featured and the book will be packaged with a CD of all southern African frog calls.
List Price: $37.00
Your Low Price: $28.12
This item is not in stock
please e-mail or call for details.
Specific Details
Softcover: 400 pages
Illustrated
Title: A Complete Guide to the Frogs of Southern Africa
Author: Louis du Preez and Vincent Carruthers
Publisher: Random House Stuik
Date: 2009
ISBN:
Language: English