Shopping Cart: Empty
Author: Susie Green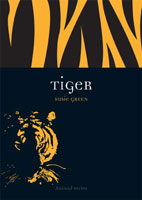 Contrary to popular belief, it is the tiger, not the lion, who is the true king of the jungle. A male tiger can grow to eleven feet in length and weigh more than 650 pounds. Sleek, powerful, and mysterious, the tiger is revered as a potent symbol of sexuality and ferocity in many cultures around the world. Yet the tiger's strength and beauty has also been its downfall—nearly every part of the tiger has a value to poachers, including the animal's hide, teeth, bones, and even sexual organs.

With Tiger, author Susie Green explores the tiger's new status as both predator and prey. She also examines the tiger's rich cultural history, from its valued position in Taoist mythology and the Chinese Zodiac, to more recent interpretations of the tiger's prowess in the work of Salvador Dalí. Smart, readable, and lushly illustrated, Tiger will appeal to the wide audience that admires this wonderfully vital yet highly endangered species.
List Price: $19.95
Your Low Price: $18.95
This item is not in stock
please e-mail or call for details.
Specific Details
Softcover: 224 pages
Illustrated
Title: Tiger
Author: Susie Green
Publisher: Reaktion Books
Date: 2006
ISBN:
Language: English