Shopping Cart: Empty
Biology and Conservation

Author: Donald Lindburg, Karen Baragona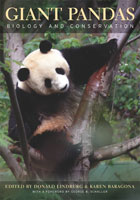 The much-loved giant panda, a secretive denizen of the dense bamboo forests of western China, has become an icon worldwide of progress in conservation and research. This volume, written by an international team of scientists and conservationists including Chinese researchers whose work has not been available in English, tells the promising story of how the giant panda returned from the brink of extinction. The most important sourcebook on giant pandas to date, it is the first book since 1985 to present current panda research and the first to place the species in its biological, ecological, and political contexts. More than a progress report on a highly endangered species, Giant Pandas: Biology and Conservation details the combination of scientific understanding, local commitment, and government involvement that has been brought into play and asks what more needs to be done to ensure the panda's survival.
List Price: $70.00
Your Low Price: $65.00
This item is not in stock
please e-mail or call for details.
Specific Details
Hardcover: 323 pages
Illustrated
Title: Giant Pandas
Author: Donald Lindburg, Karen Baragona
Publisher: 2004
Date: 2007
ISBN: 0520238672
Language: English