Shopping Cart: Empty
Author: Ken Preston-Mafham, Nigel Marven, Rob Harvey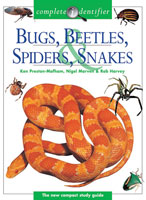 Divided into three sections, with at a glance symbols for easy reference, this book is accompanied by spectacular photographs from each of the bug, beetle, spider, and snake families. Illustrated tables enable you to tell a glowworm from a lantern fly, a tree boa from a tree python. Comprehensive information on habitats, feeding, and reproduction is provided. This compact and comprehensive volume will teach you all you need to know, and more, about bugs, beetles, spiders, and snakes.
List Price: $9.99
Your Low Price: $9.50
This item is not in stock
please e-mail or call for details.
Specific Details
Hardcover: 224 pages
Illustrated
Title: Complete Identifier Bugs, Beetles, Spiders, Snakes
Author: Ken Preston-Mafham, Nigel Marven, Rob Harvey
Publisher: Chartwell Books
Date: 2010
ISBN: 0785818529
Language: English