Shopping Cart: Empty
Author: David Badger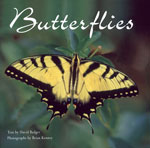 The great beauties of the insect world, butterflies have inspired poets, gardeners, scientists, and engineers with their vibrant colors, dizzying patterns, iridescent wing scales, compound eyes, and amazing metamorphosis from crawling caterpillars to winged wonders. Featuring more than 140 striking color photographs by Brian Kenney and enlightening text by David Badger, this book presents a natural and cultural history of these ephemeral creatures from the order Lepidoptera. Butterflies highlights 60 of the most fascinating butterfly species from around the world, including painted ladies, variable crackers, long-tailed skippers, Southern dogfaces, American snouts, Guatemalan satyrs, ruddy daggerwings, and shoemakers. Badger also offers an introduction to physical characteristics and behavior, butterfly-human relations, conservation, and the art of photographing butterflies. Sprinkled throughout the book are excerpts from literature throughout the ages, adding a nice touch of elegance to the stunning photo collection. Gorgeously illustrated and written in accessible and engaging prose, this book is a must for butterfly enthusiasts—and for anyone else who cherishes the splendors of the natural world.
List Price: $35.00
Your Low Price: $25.00
This item is not in stock
please e-mail or call for details.
Specific Details
Hardcover: 160 pages
Illustrated
Title: Butterflies
Author: David Badger
Publisher: Voyageur Press
Date: 2006
ISBN: 0760326347
Language: English