Shopping Cart: Empty
Lord of the Jungle

Author: Alain Pons, Francois Moutou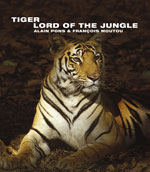 Despite it's unmistakable striped coat, the tiger remains a mysterious being, glimpsed fleetingly before it melts into its dense habitat. This richly illustrated work brings us close to Asia's iconic big cat, revealing how it lives and how it interacts with others of its own kind. It also considers the threats to the tiger and its habitat, and examines the measures being taken to save this magnificent creature from extinction.
List Price: $19.95
Your Low Price: $15.56
This item is not in stock
please e-mail or call for details.
Specific Details
Hardcover: 132 pages
Illustrated
Title: Tiger
Author: Alain Pons, Francois Moutou
Publisher: EMB
Date: 2010
ISBN: 1901268403
Language: English