Shopping Cart: Empty
Author: Nikita Ovsyanikov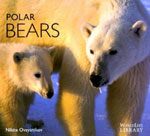 Polar Bears is a solid, general introduction to polar bears by Nikita Ovsyanikov, one of the worlds foremost polar bear researchers, who has lived among these great white bears for many years. His easy-to-read text details polar bears' eating habits, habitats, and behavior. The book is enhanced throughout with spectacular shots of polar bears in the high Arctic and all over the globe.
List Price: $17.95
Your Low Price: $15.95
This item is not in stock
please e-mail or call for details.
Specific Details
Softcover: 72 pages
Illustrated
Title: Polar Bears
Author: Nikita Ovsyanikov
Publisher: Voyageur Press
Date: 1998
ISBN: 0896583589
Language: English