Shopping Cart: Empty
Author: Dr. Leonard Lee Rue III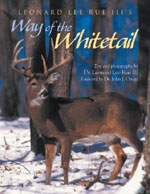 In Leonard Lee Rue III's Way of the Whitetail, Rue, writing in his trademark authoritative yet "soft science" style, leads you through the whitetail's behavior through the seasons—month by month. Rue also provides insight into the sensory abilities, versatility and adaptability of this fascinating creature.
List Price: $19.95
Your Low Price: $15.56
This item is not in stock
please e-mail or call for details.
Specific Details
Softcover: 160 pages
Illustrated
Title: Leonard Lee Rue III's Way of the Whitetail
Author: Dr. Leonard Lee Rue III
Publisher: Voyageur Press
Date: 2005
ISBN: 0896586960
Language: English