Shopping Cart: Empty
Author: Heather Angel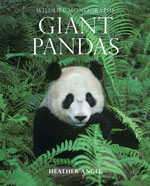 Giant Pandas inspire affection and instant recognition with their distinctive white faces and black ears and eye patches. Meet China's national treasure, pictured in a natural, protected mountain habitat where we have the chance to follow on photographer Heather Angel's shoulder as she reveals pandas as we have never seen them: playing in the snow, a mother with baby, leading their lives, apparently oblivious of one another.
List Price: $16.95
Your Low Price: $15.00
This item is not in stock
please e-mail or call for details.
Specific Details
Softcover: 96 pages
Illustrated
Title: Giant Pandas
Author: Heather Angel
Publisher: EMB
Date: 2005
ISBN: 1901268136
Language: English