Shopping Cart: Empty
Eighty-Eight Challenging Activities for Your Dog from World-Class Trainers

Author: Captain Arthur J. Haggerty, Carol Lea Benjamin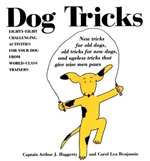 88 great tricks to teach a dog--from the simple give me your paw to the more challenging jumping rope to the more useful telephone-answering-machine trick. 45 practical and engaging drawings by Carol Lea Benjamin. Aptitude chart allows owners to gauge which tricks their breed of dog will most likely master. Packaged with a flying disc, making for added value, eye-catching display, and hours of fun with your dog.
List Price: $14.95
Your Low Price: $10.95
This item is not in stock
please e-mail or call for details.
Specific Details
Hardcover: 304 pages
Illustrated
Title: Dog Tricks
Author: Captain Arthur J. Haggerty, Carol Lea Benjamin
Publisher: Black Dog & Leventhal
Date: 1996
ISBN: 1884822460
Language: English