Shopping Cart: Empty
Author: David Hancock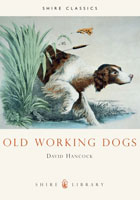 British gundogs, terriers, hounds and especially sheepdogs are used and held in high regard throughout the world, wherever working dogs are employed. Wherever sheep are worked by 'strong-eyed' dogs Border Collie blood from Britain is behind it. Inevitably, some old breeds have disappeared and others may follow them. In this book David Hancock describes the working dogs of Britain down the ages, the extinct and the extant. He covers the development of the various modern breeds, highlights the changes which have taken place in their appearance and regrets the loss of working ability in some breeds.
List Price: $11.95
Your Low Price: $11.50
This item is not in stock
please e-mail or call for details.
Specific Details
Softcover: 32 pages
Illustrated
Title: Old Working Dogs
Author: David Hancock
Publisher: Shire
Date: 2011
ISBN: 0747803765
Language: English