Shopping Cart: Empty
The Catlike Canine

Author: J. David Henry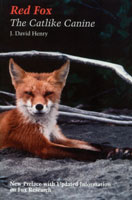 In this engaging introduction to the red fox (Vulpes vulpes), J. David Henry recounts his years of field research on this flame-colored predator. With its catlike whiskers, teeth, and paws, as well as vertical-slit pupils, the North American red fox not only resembles but often behaves like a feline, especially when hunting. Probing the reasons for these similarities, Henry reveals the behavior and ecology of a species that thrives from the edge of suburbia to the cold northern tundra.
List Price: $16.95
Your Low Price: $11.29
This item is not in stock
please e-mail or call for details.
Specific Details
Softcover: 174 pages
Title: Red Fox
Author: J. David Henry
Publisher: Smithsonian Books
Date: 1996
ISBN: 1560986352
Language: English