Shopping Cart: Empty
Author: Various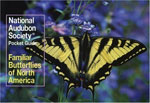 Filled with succinct descriptions and dazzling photographs, the National Audubon Society Pocket Guide to Familiar Butterflies in North America is designed to be compact enough for nature-lovers to easily bring along when observing butterflies. This streamlined volume contains: a simple field guide identifying 80 of the most widespread butterflies in North America and a complete overview of observing butterflies, covering basic identifying field marks and practical tips for observing and distinguishing different butterflies.

This pocket guide is packed with information; bright photographs capturing the butterflies perched with their wings spread and closed; specific descriptions of each species' important identifying characteristics, life cycle, habitat and range, line drawings depicting the basic butterfly anatomy, a description of major butterfly groups and a glossary of technical terms.

When observing these beautifully fragile creatures, the National Audubon Society Guide to Familiar Butterflies of North America is an excellent and handy reference guide to take along during any nature walk.
List Price: $10.92
Your Low Price: $9.31
This item is not in stock
please e-mail or call for details.
Specific Details
Softcover: 192 pages
Illustrated
Title: National Audubon Society Pocket Guide to Familiar Butterflies Of North America
Author: Various
Publisher: Knopf
Date: 1990
ISBN: 067972981X
Language: English