Shopping Cart: Empty
Author: Robert Michael Pyle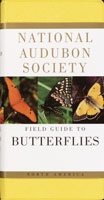 Butterflies are among the natural world's most colorful and intriguing creatures, so what could be more useful than a handy field guide with more than 1,000 photographs of all the butterflies of North America north of Mexico, including all true butterflies, the most common skippers, and many migrants and strays. The color plates are visually arranged by shape and color, and thumb-tab silhouettes provide a convenient index to identification of butterflies in the field. The species account for each butterfly provides measurements, descriptions of each stage of the life cycle, and information on coloring or distinguishing markings, flight period, habitat, and range.
List Price: $21.95
Your Low Price: $14.93
This item is not in stock
please e-mail or call for details.
Specific Details
Softcover: 928 pages
Illustrated
Title: National Audubon Society Field Guide to North American Butterflies
Author: Robert Michael Pyle
Publisher: Knopf
Date: 1981
ISBN: 0394519140
Language: English